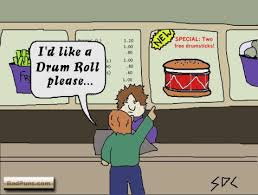 No…not that drumroll..(slapping forehead)
Yeah…that drumroll….
WE HAVE A WINNER!
Let's finish this blog the way I started it though, come sit
 and have some tea!
As I read through the many entries…
Whoot, whoot, Kate you now have $500.00 more in your coffers for the adoption of Bethany and Hannah!  Thank you everyone for participating!
We had to choose a name among 58….yes
names.  This was not an easy task!
So…the winners are:
First Place to:
Jen from NW Arkansas…who suggested….BESSIE.
Here's what she put:
I honestly think you should keep the name Bessie. Just because she's been remade – she's still home. Bessie is a nickname for Elisabeth – she may now look more like Elisabeth with a whole new makeover but she's still sentimental, precious Bessie.

Another reason I think it should stay the same is because Bessie means 'God's Promise'! Think how awesome that is! Day after day, you would be reminded of God keeping His promise to you by bringing you to Bessie.

The third reason is from Lamentations 3:21-25. I know these verses aren't really talking about your debt but I think this fits so well with the definition of Bessie  & how He showed compassion, love & faithfulness to you through Bessie.

You probably didn't expect the same name but I really like it & wouldn't change it all.

By the way, I'm fairly new to reading your blog & have thoroughly loved it. I'm close to you to in nw Arkansas.
The girl's name Bessie \b(es)-sie\ is a variant of Bess, Beth (Hebrew), Betty (Dutch, English) and Elizabeth (Hebrew), and the meaning of Bessie is "house; God's promise; God is my oath".
Here is the verse she refers to:
Lamentations 3:21-25 (New International Version)

21 Yet this I call to mind
and therefore I have hope:

22 Because of the LORD's great love we are not consumed,
for his compassions never fail.

23 They are new every morning;
great is your faithfulness.

24 I say to myself, "The LORD is my portion;
therefore I will wait for him."

25 The LORD is good to those whose hope is in him,
to the one who seeks him;
Is that not perfect?  All my family heard the true meaning of Bessie and said, "Yes, let's keep the name."  Bessie is God's promised home, his work became our rest!  I joy in the powerful workings of my God, His strength to throw any mountain into any sea….
So….if you want to throw tomatoes at me for keeping the original name, go ahead…I understand…but it is simply "perfect." 
So Jen from NW Arkansas send me your e-mail address and I will be sending you a $50.00 gift card to Pottery Barn!
2nd place runner up:
 Jenni…..with her wonderful entry of MYRTLE, here's what she had to say:
Okay, I think I already told you my thoughts (no way…I told you my thoughts? I NEVER do that! I'm so shy and retiring! Hawhawhaw! Oops I just swallowed my gum), but here's my reasoning…

I think Bessie should be Myrtle. I know, I know, that's a name just as "terrible" as Bessie in some respects, BUT I am thinking of the verse from Isaiah 55:13 that goes…

"Instead of the thorn bush the cypress will come up,
And instead of the nettle the myrtle will come up,
And it will be a memorial to the LORD,
For an everlasting sign which will not be cut off"

In other words, Bessie is a testimony, a memorial, to the goodness of the Lord in your lives, and she once was a "nettle" (useless, prickly, ugly, etc) and now she is a "myrtle" (a lovely little tree/bush). Plus I just don't think she needs a "fancy" or too dignified name…after all, she is STILL a mobile home and she needs to remember her roots, lest she get all uppity.
We have even planted a couple of crepe myrtles…I think they are beautiful!  Since this is our 2nd place name, I think will shall name our chicken coop, myrtle!  She was built from the scraps of the front porch and old railing we tore off (little pieces of bessie making a "mobile" home for our chicks):
Jenni has won for herself the lovely handmade bracelet and earring set that I made…please send me you wrist size so I can make sure it is JUST right and then I will pop it in the mail to you!
And third and final place goes to:
Michelle who suggested SURSUM CORDA…here's her reasoning:
I once heard of a home named Sursum Corda (pronounced just as it looks), which is Latin for "Lift up your hearts." I know you're not Catholic (neither am I), but we all trace much of our liturgy back to the early church, when it was just the church with a lowercase "c." And for many of his earliest followers, Latin was their daily language.

Pardon the linguistic rabbit trail …

Your home reminds me of what one can do when he or she heeds the will of the Lord. He wrote His words, His plan for your family on your hearts. You heard Him, and unlike so many, you lifted His word back to Him, and you heeded His call.

You lifted your hearts to the Lord with your act of obedience, and you've lifted so many hearts with your blog about that radical, daring act.

Finally, your home, the heart of your family, will continue to be a place where people … family, friends and strangers … will heed His call, and lift their hearts to Him.

Sursum Corda is my suggestion for Bessie's name. She's ready to blossom into the beautiful creation you have made her with God's help, her very name a call to worship.
"Her very name a call to worship," sigh…I lurve that….and if I every have a home on the beach I will name it this, but it's a bit to high for the likes of bessie….
Or…perhaps we will name Rinnah's treetop fort Sursum Corda, that might be very appropriate!  Of course, we haven't built it yet…but in the Lord's timing we will.  With the name of our property being flying heart field, I really liked the allusion to lifting up our hearts to our Lord God. 
May we ever and always lift them to Him and Him alone!
You have won for yourself a subscription to
A close fourth was  sent by Kym…who submitted Flying Heart Cottage…which the Mister said we would use if we ever built a home out here…so Kym, in light of that fact, we would like to send you a homemade pair of earrings…please e-mail me your address!
My e-mail is foundinhisgrace@aol.com so winners, please contact me and send me your information!
This was a difficult and fun decision, thank you all for participating…thank you for your many prayers along this road we called "babysteps with bessie, learning to walk the dream."
flying on His breeze…blessings…joy….carried on His back…
His promises never fail…and this was a relatively small thing…what about in eternal matters?  His word is full of promises that He keeps…not vain, not hollow…solid…eternal.  Thank you Father, for your many blessings, your many promises that even I can cling to because of Jesus Christ.