Come sit in my rocker….
Have a glass of tea…sweetened of course…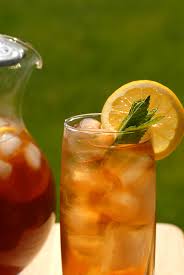 Here it is…..all finished!!!!!
Here's the before:
Just plain bleh!
Here are some closer peeks:
The day was pretty sunny when I took these, so please forgive the 70's vibe going on…
I stole the colors from the cover of this:
One of my favorite magazines in the whole world…
I was all over mixing a spring green with brown…afterall the idea wasn't original to us…just look what our Papa did:
Sigh….too beautiful!
Here is the new front door!
We pulled out the original steps and built these…are you digging the reclaimed cedar braces?
These are the new steps on the opposite side of the porch!
And these are the "piece de resistance"…the new front doublewide's doublewide steps!
I'm loving it!
Here's a close-up of our new cedar shutters!  You too, can add cottage charm to your home by cutting cedar boards the height of your windows, staining them or painting them whatever color you like and attaching a little cross piece to hold them together…then screw onto house…wah-lah…country charm!
The mister earned a well-deserved nap in the hammock:
I LURVE IT, JUST LURVE IT!
Now I just need some landscaping dreams…..
Hey Gina, I am enjoying your new do!
Hey Kimba…added this when I saw it would be your last…blessings and joy!