Well, it is Labor Day weekend and that is an apt name for what is going on with us at Bessie…well, there's a little play as well on the Hulk…
(Mr. Undaunted, Mr. Carefree takes daughter for a spin) 
Today I was wondering to Hannah on the way home where the deed of trust could be…because we closed on the 14th of August…and guess what was in the mail when we got home?
Yep, that makes it official…it is now our little slice of pizza!  To have and to hold…
for better and for worse!
I had been having cryptic  thoughts like:
what if we don't "own" it
what if there was a glitch
how much time have we spent working out here
how much money have we invested in the renovations so far
Yet with each cryptic thought, I have laid it on the altar and left it in my Lord's hands…so now…it is officially ours…kind of…
we still need the Lord to bring the right buyer for our lovely suburban home…the right buyer…at the right price…to bless all of us…
so I refuse to worry…my same Papa who opened all the doors and ushered me through, will not leave me "hanging." 
 I am confident that He will finish this "work" as well…
and that is where we rest right now…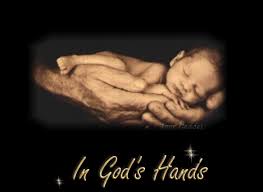 Which ties in with a metaphor for you Jenni @ One Thing
that the Lord gave me when we visited Bessie before the closing, but we knew we had won the winning bid…(it is a HUD property)…we were out walking along the wet weather creek with Corrie, trespassing as it were, on my land…yet not my land… and the metaphor came to me:
we know we have won it…we just don't own it yet
we anticipate that it is ours…it just isn't finalized
salvation is a free gift through Christ…by faith…yet it won't be realized til we die and see Him face to face
salvation gives me perfection in God's eyes because of Christ's finished work…I am not perfect yet
Just think…if I can trust in something as piddly as appropriating a property that the Lord has opened wide the doors on…
what about the completion of my salvation…its perfecting…until the Day of His coming…all His promises ARE sure…we are not trespassing on His land…
We are just waiting on that final deed of trust.